Oil & Gas Transmission Linepipes
Production range of outside diameter from 16" (406,4mm) up to 126" (3200 mm) with wall thickness up to 26mm.
Tosçelik Spiral Pipe Mill converts steel coils into high-strength, large-diameter API-grade pipes for high-pressure natural gas and oil transmission lines as well as for structural applications.
Tosçelik Spiral Pipe, can apply various kinds of coating materials to both inside and outside at integrated in-house coating and lining mills to prevent corrosion on pipe and provide anti-corrosion solutions to international projects.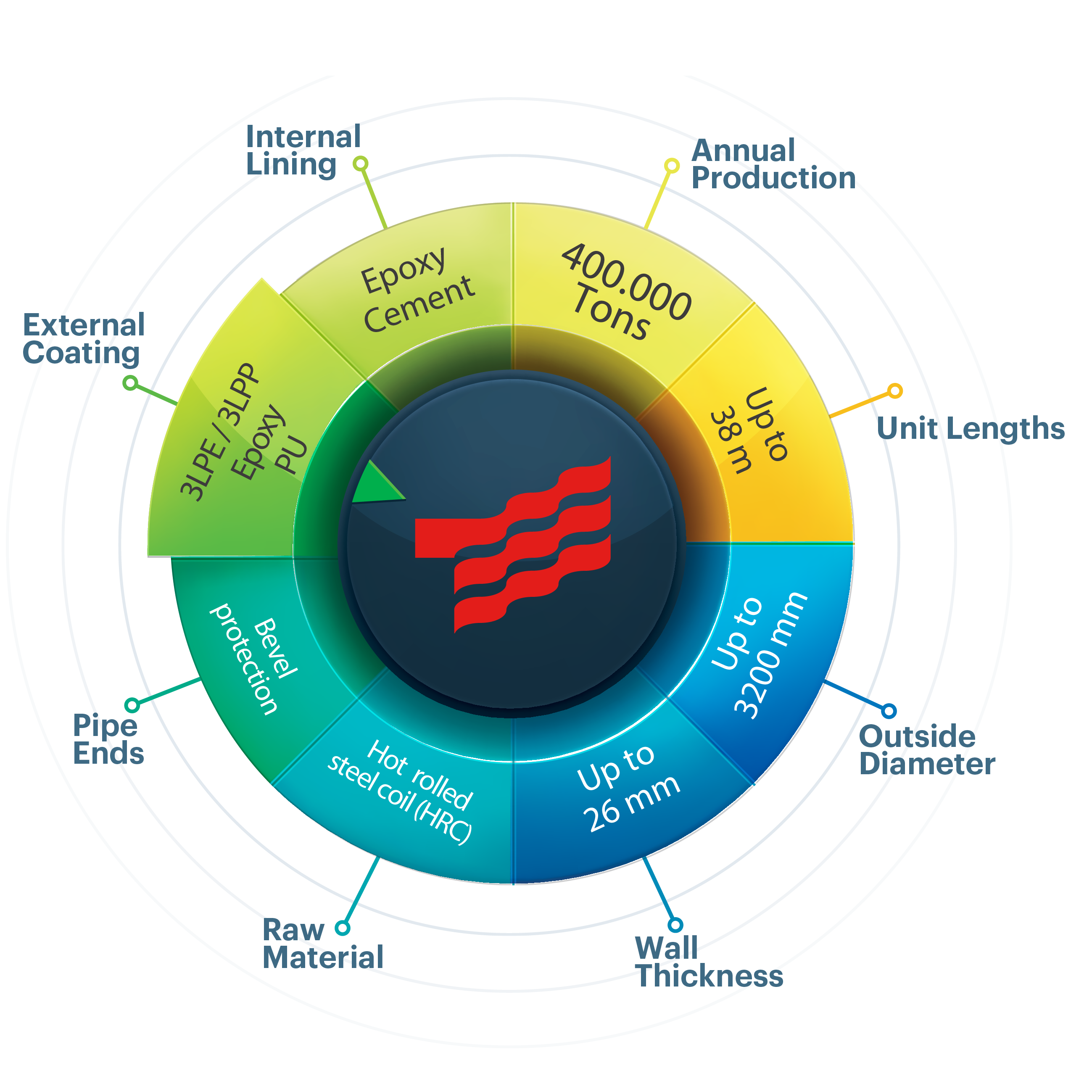 Annual Production : 400.000 tons
Raw Material : Hot Rolled Steel Coil (HRC)
Wall Thickness : up to 26mm
Outside Diameter : up to 126" (3200mm)
Unit Length : up to 38 meters
Pipe Ends : Bevel Protection or Plain
External Coating : 3LPE / 3LPP / Epoxy / PU
Internal Coating : Solvent Free Epoxy (SFE) / Flow Coat Epoxy (FCE) / Cement Mortar
Oil & Gas Transmission Linepipes
Tosçelik Spiral Pipe manufactures high quality, high pressured, long life oil & natural gas linepipes in its state-of-art, high-qualified production facilities to meet multi-national and international transmission linepipe projects needs all around the world.
Linepipes produced under the non-destructive and destructive quality control processes with Spiral Submerged Arc welding technology, have the most prevalent use for oil and gas transmission lines from America and Europe, Africa and Asia.
Tosçelik Spiral Pipe has become a global supplier for international oil & gas transmission linepipe projects with its experience and customer oriented working culture.
Tosçelik Spiral International Certified Production Standards for Oil & Natural Gas Linepipe
API 5L PSL 2
EN ISO 3183 PSL 2
EN 10208-2