Piling & Structural Pipes
Production range of outside diameter from 16" (406,4mm) up to 126" (3200 mm) with wall thickness up to 26mm.
Tosçelik Spiral Pipe Mill converts steel coils into high-strength, large-diameter API-grade pipes for high-pressure natural gas and oil transmission lines as well as for structural applications.
Tosçelik Spiral Pipe, can apply various kinds of coating materials to both inside and outside at integrated in-house coating and lining mills to prevent corrosion on pipe and provide anti-corrosion solutions to international projects.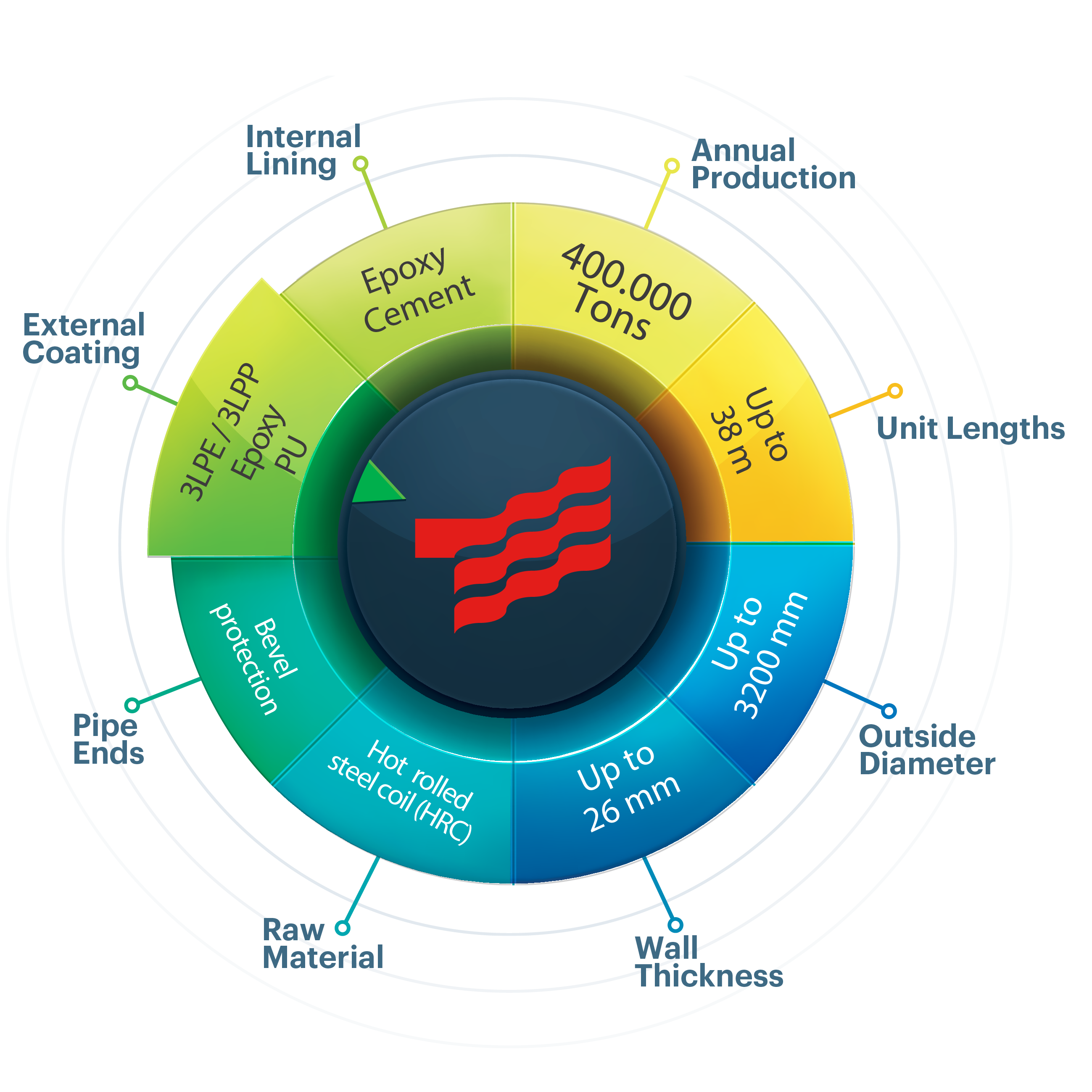 Annual Production : 400.000 tons
Raw Material : Hot Rolled Steel Coil (HRC)
Wall Thickness : up to 26mm
Outside Diameter : up to 126" (3200mm)
Unit Length : up to 38 meters
Pipe Ends : Bevel Protection or Plain
External Coating : 3LPE / 3LPP / Epoxy / PU
Internal Coating : Solvent Free Epoxy (SFE) / Flow Coat Epoxy (FCE) / Cement Mortar
Piling & Structural Pipes
Especially with the globalization of world trade, countries focused on the maritime transportation that bring interest and increase in need for the ports to improve maritime activities.
In international ports, wharves, docks and wave breaking projects, the need for spiral powder welded pipes has increased due to its durable and easy application feature. Spiral welded pipes, which are also used in strengthening the bridge legs, continue to be an important support element of the constructions.
Tosçelik Spiral is a strong and reliable supplier with its own port, bring the possibility of delivering international projects to any desired size. Tosçelik Spiral also has customized production capabilities to apply clutch, reinforcement rings or plates for different designs.
Tosçelik Spiral can also supply the desired custom made structural pipes with the integrated in-house coating applications suitable for different corrosion requirements in the projects.
Tosçelik Spiral International Certified Production Standards for Piling and Structural Pipes
ASTM A252
ASTM A53
EN 10219
EN 10210